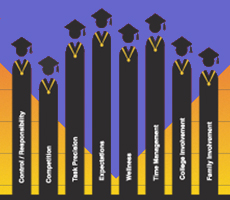 We offer to students an easy and inexpensive, yet serious, personalized assessment program to attain higher grades and increased chances of college admission- SMART GRADES.NET™.
To get SMART GRADES.NET™, follow two proven steps:
Sign up and take SMART GRADES.NET™. The results will appear in seconds and compare your scores with 65,000 high school students and 65,000 college students.
Study SMART GRADES Express™. Included are four SMART GRADES.NET™ improvement areas.

Three proven principles of grade success.
A chart that shows where your score compared to others, including areas of needed improvement.
Checklists, techniques and a contract for improvement of grades.
A suggested textbook and exercises to improve the factors measured.
As deans of admissions and professors, we have used SMART GRADES.NET™ to increase college admissions and the grades of high shcool and first year college students.
Benefits to students...
Compare your scores with 65,000 high school or 65,000 college students in the same grade.
Check yearly progress through the first year of college.
Focus on specific areas that need grade improvement.
Learn important intervention strategies that improve grades.
Find the SSFI easy to take.
Find the SSFI fast to take (15 minutes) in the privacy of the home or at school.
See the instant feedback of scores and strategies.
Study the results, definitions and strategies found in the SMART GRADES Express™.
Schools invest only a few dollars under a purchase contract in SMART GRADES.NET™.
Individual users invest $9.95.
Join with thousands of fellow students and complete SMART GRADES.NET™. It is the most important investment you will make in your journey to college acceptance and beyond. Let's work on SMART GRADES.NET™.
- OR -